Harbourside Place in Jupiter has welcomed a new way for the community to enjoy the waterfront with Pontiki Boat Cruises. The third boat of Pontiki, named Shaka, is their largest boat, yet, holding around 40 passengers. Those gathering for birthday parties, reunions, wedding showers, and more will enjoy live music, televisions, as well as food and drinks as they cruise out of Harbourside Place.
JUPITER —With two wide-screen TVs, a bar for beer and wine and hot running water in the bathroom, landscaper Tom D'Alessandro says the 45-foot aluminum catamaran he partly owns and rents out in Jupiter is a dream come true. [caption id="attachment_8746" align="aligncenter" width="788"]
The Pontiki, also known as SHAKA, is guided down the intracoastal waterway by Captain Chip Sandt and general manager Jonathan Rios Tuesday, March 6, 2018. The boat launches out of Harbourside for private charters and open cruises. Damon Higgins / The Palm Beach Post[/caption] "Landscaping is my blood. I'll never quit. And I love boating. How blessed am I to do the two things I love?" said D'Alessandro, sitting on a bar stool on the deck of the Shaka,
docked at Harbourside Place
. Equipped with an inflatable water slide and bright orange floating "lilly pads," the Shaka — Polynesian for "Friendly Island Spirit" — opened for passengers last month. Customers pay $30 per person/per hour for rides north to the Jupiter Inlet, along Jupiter Island and back to Harbourside. The 51-year-old Jupiter resident has spent most of his life working with his father Tom in the family landscape business his grandfather started in the 1920s in West Palm Beach. The company did the lush landscaping at Guanabanas waterfront restaurant in Jupiter before it opened in 2009. On the side, the younger Tom started operating two six-passenger pontoon boats for rental. They docked at Guanabanas. The colorful pontoon boats, with stereos and refreshments, were a hit. Locals see them anchored at sandbars and near Cato's bridge. Billboards posted on the side advertised for D'Alessandro Landscaping. "Our phone rang off the hook. But people weren't interested in landscaping. They wanted to get on the pontoon boat," said D'Alessandro. [caption id="attachment_8747" align="aligncenter" width="816"]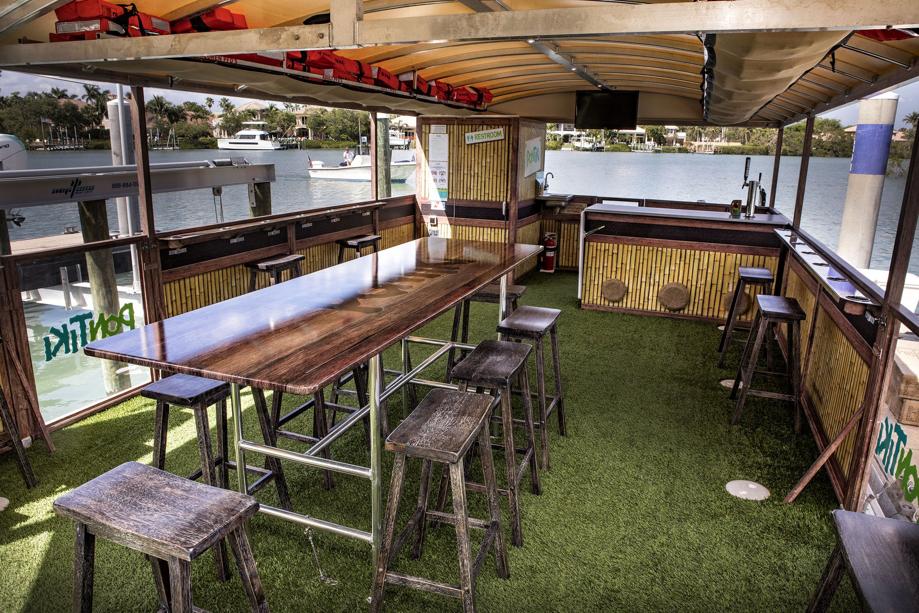 Interior of the Pontiki, also known as SHAKA, that launches out of Harbourside for private charters and open cruises,Tuesday, March 6, 2018. Damon Higgins / The Palm Beach Post[/caption] D'Alessandro and the other two owners are confident their $260,000 floating investment will be a success. "We were turning down customers every week. They wanted a boat larger than the six-passenger crafts we were operating," said co-owner and Jupiter resident Chris Nielsen. The other part-owner is Ray Pronto, a part-time Jupiter resident. The Shaka gives non-experienced boaters access to the water, said Nielsen. "Many people do not feel comfortable renting and driving a boat," said Nielsen. Sightseeing isn't the only activity on the boat powered by two outboard 15o horsepower engines. There's live music with dancing on deck on weekends. Birthday parties, wedding parties and class reunions are popular. The two TVs attract sports fans. The crew removes the deck tables for yoga classes. Besides private charters, the public can board the Shaka on a first-come, first-served basis. "If there's room, anyone can come for a ride," said Nielsen.